In den Oliver Wyman Insurance Insights sind Interviews mit Führungskräften aus der Versicherungsbranche zu lesen, die zeigen, welche Themen auf ihrer jeweiligen Vorstandsagenda stehen, wie sie die Branche einschätzen und wie ihr Blick in die Zukunft aussieht. Außerdem werden verschiedene Versicherungsstudien und –artikel aus Europa vorgestellt. Die Interviews wurden während der Amtszeit der jeweiligen Führungskraft durchgeführt.
Evelyn Bourke Group CEO, Bupa
Group CEO of Bupa shares her perspective on the future growth strategy of Bupa
DOWNLOAD PDF
Andreas Brandstetter Group CEO, UNIQA
Andreas shares his perspective on the growth of the insurance industry, outlook on Eastern European and the role UNIQA will play in the new digital area
DOWNLOAD PDF
Andreas Brandstetter Group CEO, UNIQA
Andreas legt seine Sicht auf das Wachstum der Versicherungsbranche dar, gibt einen Ausblick auf Osteuropa und die Rolle von UNIQA im digitalen Zeitalter
download german version
Tom Stoddard, CFO Aviva
CFO of Aviva shares his outlook on the global insurance industry and the growth areas for Aviva over the next few years
DOWNLOAD PDF
Maria Bianca Farina, CEO Poste Vita Group
Poste Vita Group's business priorities over the next few years. The impact insurers can have in the economic and social environment and the need to adapt to the advances of digital revolution
DOWNLOAD PDF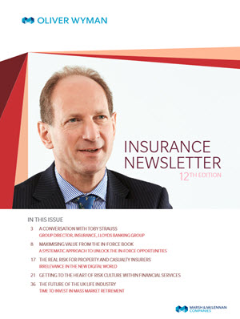 Toby Strauss, Group Director Insurance, Lloyds Banking Group
The changes in the UK life market, the role of digital and leadership as the insurance industry undergoes this important period of change.
DOWNLOAD PDF
Mario Greco, Group CEO, Assicurazioni Generali
The focus of Generali's new strategy, the impact of Solvency II delays and the opportunities and challenges for the insurance industry in the next 5 to 10 years
DOWNLOAD PDF
Christian Mumenthaler, CEO Reinsurance, Swiss Re
Swiss Re celebrated their 150th anniversary in the insurance industry. An insight into Swiss Re's business strategy that marked their comeback from the financial crisis and the reinsurance division
DOWNLOAD PDF
Henri De Castries, Chairman and CEO, AXA
An insight into AXA's success and the outlook of the trends shaping the insurance business
DOWNLOAD PDF
John Tiner, CEO, Resolution
Unlocking value in the life insurance industry
DOWNLOAD PDF
George Quinn, CFO, Swiss Re Group
Swiss Re weathering the financial markets crisis and the focus on emerging markets
DOWNLOAD PDF
Patrick Liedtke, Secretary General, The Geneva Association
A leading international insurance think tank's view on the future landscape for the global insurance industry
DOWNLOAD PDF
Giovanni Perissinotto, Group CEO, Assicurazioni Generali
The effect of globalisation and evolving regulatory changes on the insurance industry
DOWNLOAD PDF
Bernd Felske, Member of the Board, Volksfürsorge AG
The importance of innovative distribution channels for insurers and placing customers at the centre of the business proposition
DOWNLOAD PDF
Jos Streppel, Former CFO, Aegon N.V and Thomas C. Wilson, CRO, Allianz SE
The big insurance debate on the benefits achieved by market-consistent valuation
DOWNLOAD PDF
Tidjane Thiam, CEO, Prudential Plc
The impact Solvency II will have on the industry and the role of life insurers over the next era
DOWNLOAD PDF