Die deutsche InsurTech-Szene floriert und bietet Neuunternehmern immer vielversprechendere Geschäftsmodelle. Doch gleichzeitig steckt der Sektor in einer tiefgreifenden  Finanzierungsklemme. Das zeigt die bereits zum zweiten Mal durchgeführte Analyse "InsurTech-Radar 2017", für die Oliver Wyman in Zusammenarbeit mit Policen Direkt die Geschäftsmodelle von über 100 Start-ups untersucht hat.
Doch was treibt die Szene konkret um? Und mit welchen Veränderungen und Herausforderungen sind die Start-ups aktuell konfrontiert? Diesen Fragen gehen wir im aktuellen "InsurTech-Radar 2017" nach und beleuchten insbesondere die Frage der InsurTech-Finanzierung; ein für den Erfolg eines Start-ups sehr wichtiger Faktor. Die Befragung unter deutschen InsurTechs jedoch hat klar gezeigt: Es fehlt an Kapital, speziell im Bereich hoher Anschlussfinanzierungen. Staatliche Unterstützung kommt nach Meinung vieler Gründer zu kurz – auch verglichen mit anderen Ländern.
Source: Oliver Wyman and Policen Direkt analysis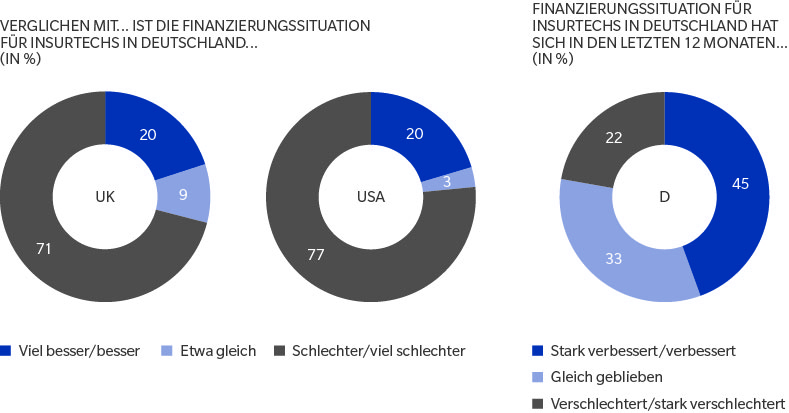 Source: Oliver Wyman and Policen Direkt analysis

Unsere gemeinsame Untersuchung zeigt deutlich, dass es in Deutschland durchaus innovative lnsurTechs gibt. Auch wenn wir es nicht explizit als Trend aufgenommen haben, wird die Marktbereinigung in Deutschland weitergehen und einige heute aktive Start-ups werden ausscheiden.
Zukunft von InsurTech in Deutschland: Der InsurTech-Radar 2017
DOWNLOAD PDF
Future of InsurTech in Germany: The InsurTech Radar 2017
DOWNLOAD PDF