Der US-amerikanische Maschinenbau ist in einem besseren Zustand als manch eine Schlagzeile es nahelegt. Tatsächlich ist der Produktionssektor in den USA in den letzten Jahren stärker gewachsen als in anderen Industrienationen (siehe Grafik). Das bedeutet jedoch nicht, dass die alten Fabrikjobs aus der Vergangenheit wiederkommen bzw. wiederkommen werden. Vielmehr werden in der Produktion zunehmend Roboter und Automatisierung eingesetzt – eine Entwicklung, die nicht nur in den USA, sondern global zu beobachten ist. Daher ist es jetzt an der Zeit, sich auf die automatisierte und digitalisierte Fabrik der Zukunft vorzubereiten.
In einer Zeit, in der Automatisierung, Big Data, Roboter und die Ausrichtung an Kundenbedürfnissen eine immer größere Rolle in der Industrie spielen, ändern sich auch die Anforderungen an die Fabrikarbeiter. Entgegen vieler Annahmen gehen durch die Digitalisierung nicht nur Arbeitsplätze verloren, es entstehen zugleich neue Aufgaben und Anforderungen an bestehende Jobs ändern sich. Das erfordert neues Wissen, Kompetenzen und technische Affinität auf Seiten der Mitarbeiter.
Der Export von US-Industrieprodukten steigt jährlich um 5,2 Prozent.
Der neue Artikel "Bringing Manufacturing Jobs back to the US?" zeigt auf, in welchem Zustand sich der US-amerikanische Maschinenbau befindet und arbeitet heraus, wie sich Unternehmen, Regierung und Mitarbeiter auf die automatisierte und digitalisierte Fabrik der Zukunft vorbereiten sollten.
Manufacturing productivity in the US has topped other nations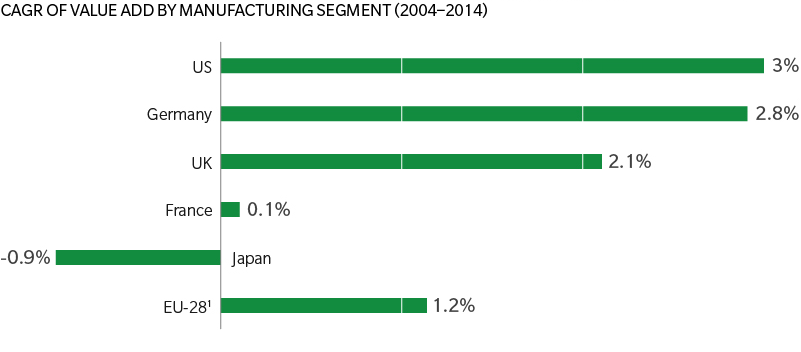 *1 Compound annual growth rate (CAGR) for 2004–2013
Source: OECD, Oliver Wyman analysis
---
Über die Autoren

Thomas Kautzsch ist Partner bei Oliver Wyman in München und Leiter des globalen Branchenteams Automotive and Manufacturing Industries. Andrew Chien ist Partner mit Sitz in Detroit und leitet das Automotive and Manufacturing Industries Team von Oliver Wyman in Nordamerika.