Eine neue Welle an Megatrends sorgt nicht nur für Umwälzungen in der Fertigungsindustrie, sondern wird die Welt, in der wir heute arbeiten und leben, grundlegend verändern. Unternehmen müssen sich jetzt mit diesen Megatrends beschäftigen und deren Auswirkungen auf ihr Geschäftsmodell analysieren, um die entstehenden Marktpotenziale zu nutzen.
Die Fertigungsindustrie ist in den vergangenen Jahren kontinuierlich gewachsen. Doch eine neue Welle an Megatrends wird die bisherige Industrie zweifelsfrei revolutionieren (siehe Grafik 1) und zugleich neue Marktchancen eröffnen. Technologische Innovationen wie beispielsweise autonome Taxidrohnen oder Maschinen zur personalisierten DNA-Dekodierung sind Indikatoren für die Entstehung neuer Produkt- und Servicemärkte.
Grafik 1: Megatrends are global and sustained forces that will certainly impact and shape economies and societies
Source: Oliver Wyman analysis
Ähnliche Innovationsschübe, ausgelöst durch Megatrends, gab es schon in der Vergangenheit und sie finden in Zyklen statt. 1910 führten Elektrizität, Öl, Chemie und Automobil zur Massenproduktion und zur modernen Stadt. 1960 läuteten Computer, Automatisierung, Telekommunikation und Flugreisen das Zeitalter der Globalisierung und der "schlanken" Industrieproduktion ein. Und jetzt sind es Künstliche Intelligenz, Sharing Economy und Vernetzung, die die Tür zu einer neuen Ära aufstoßen. Der entscheidende Unterschied zwischen einst und heute: Damals betrug der Zeithorizont für eine Innovationswelle 50 bis 60 Jahre, heute sind es nur noch 10 bis 20 Jahre (siehe Grafik 2).
Neue Märkte im Wert von einer Billion US-Dollar werden im Laufe eines Jahrzehnts entstehen.
Um sich auch künftig behaupten zu können, müssen Fertigungsunternehmen jetzt die für sie relevanten Megatrends identifizieren und verstehen, daraus resultierend neue Fähigkeiten erwerben, Strategien entwickeln, Geschäftsmodelle anpassen und in die digitale Zukunft investieren.
In unserer Titelstory "Megatrends and the Future of Industry" unseres Branchenmagazins "Perspectives on Manufacturing Industries" diskutieren wir, welche Chancen aktuelle und kommende Megatrends für Industrieunternehmen bereithalten und welche Schritte jetzt nötig sind, um davon zu profitieren.
Grafik 2: Megatrends appear in cycles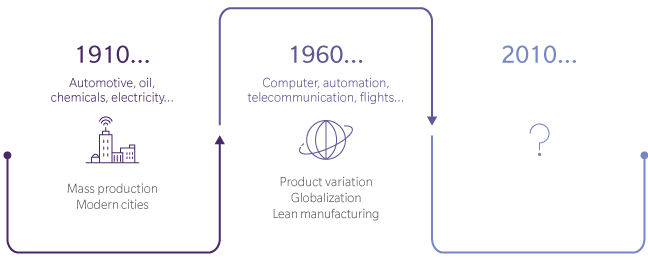 Source: Oliver Wyman analysis
Über die Autoren

Thomas Kautzsch ist Partner bei Oliver Wyman in München und Leiter der globalen Automotive und Manufacturing Industries Practice. Daniel Kronewett ist Principal der globalen Automotive und Manufacturing Industries Practice in München. Guillaume Thibault ist Partner sowohl der globalen Automotive und Manufacturing Industries Practice als auch der globalen Transportation und Services Practice in Paris.