Maßnahmen zur Senkung von Produktkosten haben in Branchen, die im globalen Wettbewerb stehen, wie der Automobilindustrie oder der Unterhaltungselektronik, seit Jahrzehnten Priorität.
Bisher wurde die Aufgabe an einzelne Funktionen wie Einkauf oder Produktion delegiert, gefolgt von funktionsübergreifenden Programmen. Diese Herangehensweise zwingt den Verantwortlichen jedoch einen zu engen Blick auf die Senkung der Produktkosten auf.  
25 bis 45 Prozent der Kosten technischer Produkte bringen keinen Mehrwert für das Produkt oder den Kunden mit sich.
Oliver Wyman hat einen neuen Ansatz entwickelt, der mit der traditionellen funktionalen Herangehensweise bricht und darauf fokussiert, die tieferliegenden Kostentreiber aufzuspüren und bisherige Lösungsansätze entlang der gesamten Wertschöpfungskette zu hinterfragen. Das Ziel sind dabei die Kosten, die wenig Nutzen beisteuern und für den Käufer oft irrelevant sind. Unserer Erfahrung nach bringen 25 bis 45 Prozent der Kosten technischer Produkte keinen Mehrwert für das Produkt oder den Kunden mit sich. Darüber hinaus werden mit Hilfe dieses neuen Ansatzes auch langfristige Effekte erzielt, indem die unmittelbaren Ursachen dieser Kosten nicht nur im Produkt sondern auch in der Wertschöpfungskette elliminiert werden. Und somit auch in zukünftige Produkte mit einfließen.
Unser neuer Artikel "Cutting Product Costs at their Roots" veranschaulicht diese neue Herangehensweise und bietet Beispiele für verschiedene Produktionsbereiche.
The next generation of product cost reduction will address non-value-added costs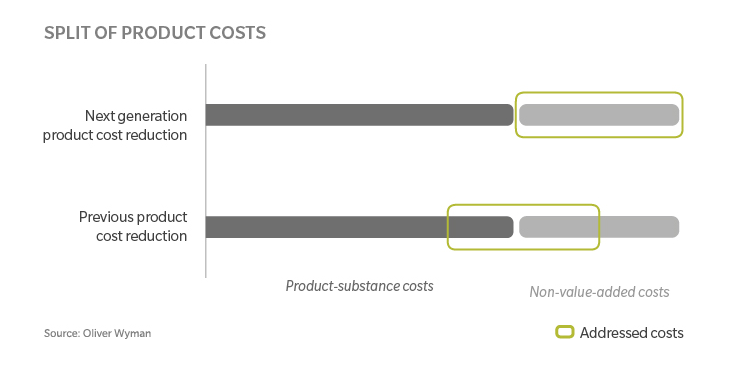 ---
Über die AutorenChristian Heiss ist Partner im Bereich Automotive und Manufacturing in Zürich mit den Schwerpunkten Operations und Kosten. Federico Ucci ist Principal mit Sitz in Paris. Er ist Experte für den Bereich Transport & Logistik mit Schwerpunkt Operations.
---