Kundenorientierung, Produktqualität und Anpassungsfähigkeit sind angesichts globaler Märkte immer wichtiger werdende Unterscheidungsmerkmale. Produzierende Unternehmen müssen sich jetzt den digitalen Herausforderungen im Qualitätsmanagement, in der Integration von technischen Innovationen und in der Systemzuverlässigkeit stellen, um sich im Wettbewerb zu behaupten.
Die Anforderungen an Fertigungsunternehmen im Zuge der Digitalisierung wachsen. Ihre Kunden verlangen im Produktionsprozess nach immer mehr Transparenz, Glaubwürdigkeit, Flexibilität und Qualität. Indem produzierende Unternehmen ihre Maschinenleistung digital kontrollieren – beispielsweise durch die Nutzung von Industrie-Clouds – können sie die Leistung ihrer Anlagen und ihre Kosten maßgeblich optimieren und dem Kunden die größtmögliche Transparenz und Kontrolle im Produktionsprozess bieten (siehe Grafiken).
30% von 30 befragten deutschen Unternehmen stellen firmeneigene Cloud-Dienste zur Verfügung.
Technologische Innovationen wie das Cloud-Computing oder das Internet der Dinge wirken sich zunehmend auf die gesamte Wertschöpfungskette der Produktion aus. Maschinenhersteller stehen jetzt in der Pflicht, ihre Produktionssysteme grundlegend zu digitalisieren und ihre Geschäftsmodelle an die digitalisierte Lieferkette zu anpassen, um den Anforderungen ihrer Kunden auch künftig gerecht zu werden.
Unser neuer Artikel "Quality and Reliability in a Complex World" zeigt, wie sich Unternehmen  auf eine ganzheitlich digitalisierte Wertschöpfungskette einstellen und welchen Bedürfnissen ihrer Kunden sie in welcher Art nachkommen müssen, um im globalen Markt eine Vorreiterrolle einzunehmen.
Cloud offerings of 30 German manufacturers
Source: Oliver Wyman analysis of manufacturer cloud service offerings
---
Use cases of proprietary cloud offerings for machine manufacturers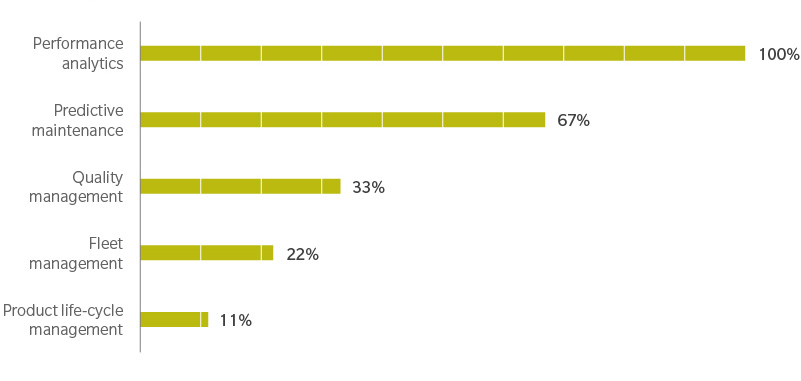 Source: Oliver Wyman analysis of proprietary manufacturer cloud service offerings
---
Über den Autor

Richard Hell ist Vice President der Harbour Advanced Manufacturing and Engineering Practice in München. Der Fokus seiner Beratungstätigkeit liegt in den Bereichen operative Verbesserung, technisches Risiko- und Qualitätsmanagement und digitale Produktion.